UN Secretary-General Guterres: China-Africa cooperation is crucial for peace and development - copy-
Date: 2018-09-03
Original title: China-Africa cooperation is essential for peace and development - Interview with UN Secretary-General Guterres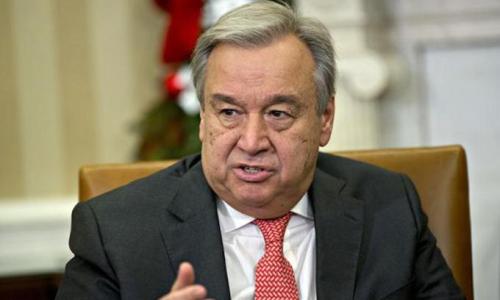 Data Map: Guterres
United Nations Secretary-General Guterres said in a joint interview with Chinese media at the UN headquarters in New York that China-Africa cooperation is the core content of South-South cooperation and is vital to peace and development in Africa and the world.
Guterres will be invited to attend the Beijing Summit of the China-Africa Cooperation Forum. Guterres said that the important purpose of his trip is to show the importance the United Nations attaches to South-South cooperation. Through its branches in African countries, the United Nations will also ensure that China-Africa cooperation projects can interface with development plans and national plans of various countries and promote China-Africa cooperation in the areas of trade, financial management and international law.
Guterres said that China-Africa cooperation is an important measure for Africa's development and is in line with the UN's 2030 Agenda for Sustainable Development and the goals of the AU's "2063 Agenda." The forthcoming Beijing Summit of the Forum on China-Africa Cooperation is of great significance. China-Africa leaders can discuss cooperation issues of common concern. He said: "I firmly believe that Africa's success is vital to world peace and development, and cooperation with China is crucial to Africa's success."
Guterres said: "At the moment we are in the era of globalization, everything is interconnected. Whether it is through roads, railways, or other connections through communication technology and human communication, it is vital to the development of the world. "
Guterres pointed out that the development of developing countries is very important for global development. China has long used its own successful experience in economic development to promote Africa's development. China-Africa cooperation can be said to be part of the "One Belt, One Road" initiative, and the "One Belt, One Road" construction is not only economic cooperation, but also an important way to improve the global development model and global governance and promote the healthy development of economic globalization.
When talking about building a community of human destiny, Guterres said: "Our world is one, regardless of economic development, climate change, or peace and security. If we want to prosper and seek development, Need to form a community of destiny and need a shared vision."
Guterres said that as the importance of Africa increases, African countries should make a bigger voice on the United Nations platform. China has always supported Africa's greater voice in the United Nations. In fact, all efforts to support African countries in making greater voices in multilateral mechanisms, including the United Nations, are in line with historical trends.
Guterres said: "China is an important pillar of the multilateral system and has made positive contributions to promoting multilateralism. As a founding member of the United Nations and a permanent member of the Security Council, I believe that China will continue to play a role in ensuring that the multilateral system operates on a rule-based basis. Important role." (Reporter of the newspaper to the United Nations Yin Yin)